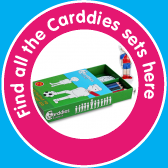 Award winning colouring sets encouraging creativity, pretend play, imagination and story-telling.
Carddies, the Card People who live in a box, make the perfect creative Christmas gift for children!
12 colour-and-play sets to choose from: Cavemen, Knights, Fairies, Farm, Ballet, Family 1, Family 2, Football, London, School, Sports and Nativity
BUY CARDDIES FROM OUR STOCKISTS ONLINE NOW!
Top Toy Reviews