UKEdChat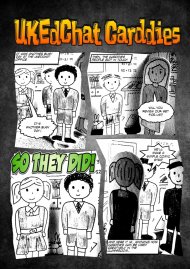 December 2014
Carddies got the thumbs-up from UKEdChat , a website aimed at teachers and educators:
"Any toy that encourages imagination, story telling or small world play is worthy of attention, and a new product which has come on our radar ticks all the boxes in being a resource which could easily be used in the classroom or at home."
"These Carddies sets could easily be a great resource in the early years and primary classrooms, with the different themes allowing for a diverse array of storytelling opportunities. Adding the use of simple technology, stories can be developed, supporting language and literacy skills or used as a teaching aide so teachers create their own stories."
They even had some fun making a cartoon strip using our Carddies!