Amazing press and parent and blogger reviews for our creative colouring toy...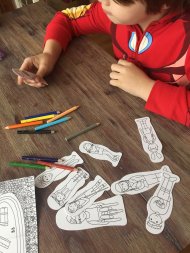 Cracked Nails and Split Ends
April 2016
Another great review, this time of Carddies Sports...
"I knew these would be a hit, both Summer and Jacob enjoyed colouring the bits together, creating their own sports team and standing their players up etc."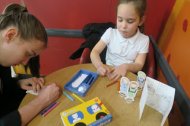 Unconventional Kira
March 2016
Wonderful review of our Carddies by channel mum blogger Kira Hutt and family...along with a great youtube video!
"The girls absolutely love them.We are big fans of colouring in anyway and these have kept us all entertained for hours.The concentration Alessia has shown with these have been adorable,treasuring them like her little friends."

KalliKids
February 2016
Recommended by parents: 5 stars out of 5 for Carddies on Quality of Service, Value for Money, What the Kids Think and What the Adults Think!
This is what they said:
"All of them have names and are played with most days. We always get a set when we go away. They are coloured in on the aeroplane and played with when we get there."
"It's something that grips their imagination, they adore doing and they keep coming back to over the years."
"They are great to just throw into your bag and pull out when you want to keep the children entertained, a bit like a portable dolls house."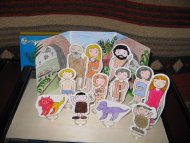 Critiques and Tests
May 2015

Critiques And Tests carried out product tests from a disability view point. These were some of the reviewer's thoughts on the Carddies:
"Delightful box of fun, imagination and creativity."
"The Carddies are innocent which is wonderful :-) an activity that does not require batteries or a screen, and can be played with, again, and again. "


"I like the idea of the Carddies being a story telling aid, and my thought is this - if you get other sets - I can see the Carddies being used similarly to Story Stones - get a group to colour as many Carddies sets as you can, then put the characters into one big pot and pass it around the group - each group member has to create a story involving the character they have picked up :-)"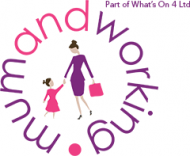 mumandworking
May 2015
Fantastic review of our Carddies by mumandworking, the parents' one stop website for all things work related!
"Brilliant product, a bit different from anything else out there at the moment. Great way to get children using their imaginations..."
"My daughter thoroughly enjoyed colouring these in and even recorded a little video story on her tablet using her Carddie people!"


MUMSNET LOCAL
December 2014
In December 2014 20 Mumsnet local editors reviewed the Carddies and loved them...Some comments:

M

umsnet Blackburn


"...perfect for children for weddings or other occasions where you need a toy that isn't bulky, messy but provides endless play opportunities."

Mumsnet Chelmsford


"T has played with this toy constantly all weekend and demanded that we took it with us when we went to see his Grandmas this morning. He then introduced it as his 'favourite toy'!"
Mumsnet Croydon
"… they came up with some great names such as Blossom, Sylvie and… Diego Costa (after the Chelsea footballer)".
Mumsnet Dorset


"…I was pleasantly surprised to find the set held the attention of both of them for almost two hours!"
Mumsnet Ealing


"There was total silence for about an hour as my daughter was completely engrossed in the colouring and playing with the characters – they are great for imaginative play!"
Mumsnet Greenwich/Bexley
"So these were enough to keep eight children busy. We thought they would be back in half an hour with dared "I am bored" claims, but no, we did not hear from them all day long!"
Mumsnet Kent


"My son couldn't wait to get into to the box and find out what was inside. Although the box is small, we were impressed with what we discovered – these have been so well thought out."
Mumsnet Lancashire


"They are fabulous and it's so quiet with the concentration involved!"
Mumsnet Leeds/Wakefield


"…we travelled on the train last week for three hours and the Carddies set kept my two year old so entertained"

Mumsnet Lincolnshire


"Who wouldn't want their own little people, in their own little box to carry around with them wherever they go?"

Mumsnet Merton


"…it was love at first sight. No sooner had she scrutinised the mini characters than she's already established that "they'd make good presents for friends" and asked if she could have the Fairies and School 1 sets for Christmas!"
Mumsnet Monmouthshire and Newport / TorfaenGwent


"I wasn't sure what to expect from Carddies as it seemed like such a simple idea to me, and I did think that some simple cardboard cut-outs to colour in might not hold the children's attention for long. But I was wrong, very wrong! Yes the idea is very simple but sometimes the more simple the idea the better."

Mumsnet Reading


"So far in the space of 3 days, our little box has been with us to a restaurant, to visit family and opened several times at home to add a little more colouring and a little more play. They are easy to transport too…and the box seems exceptionally robust…"

Mumsnet Renfrewshire
"She loved it. In fact, it was played with all weekend. She even took it along with her to her grandparents"
Mumsnet Rutland /Leicestershire


"I admit, I was rather sceptical about whether this little box of simple cardboard drawings would keep my 3 1/2 year old entertained and I am really pleased that I was proved wrong."
Mumsnet South Yorkshire/Sheffield
"The girls loved both colouring, attaching the stands and then using their imagination to act out Various scenes at their ballet dancing school. "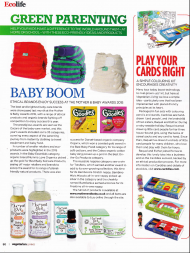 Vegetarian Living
March 2015
Play your cards right
"Many toys today boast technology to rival grown-ups' kit, but here at Vegetarian Living we love a simple idea - particularly one that has been implemented with planet-friendly
principles at its heart."