Amazing press and parent and blogger reviews for our creative colouring toy...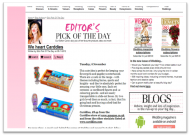 Wedding Magazine
The Wedding Magazine found the Carddies perfect for distracting children at long wedding receptions!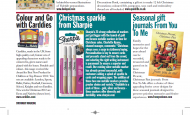 Stationery Magazine
Oct/Nov 2012
Carddies were featured in Stationery Magazine (for retailers of stationery and writing instruments), in Last Minute Christmas.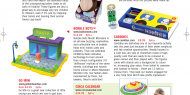 Creative Steps
2012 Toy Review
Creative Steps featured Carddies in its 2012 Toy Review:
"Carddies are definitely one of our favourite activity sets this year just because of their sheer simplicity and fab creative opportunities...They kept our testers engaged for a very long time which was pretty impressive!"
Toddle About
Oct-Dec 2012
Toddle About, the local baby and toddler directory, included this lovely piece on Carddies: "...Carddies make the perfect stocking filler!...They really are great little gifts."

The Little Concierge: The Little Travel Blog
Carddies kept two girls very amused on a transatlantic flight to the US-and then were treasured as a perfect portable holiday toy!
"Unbelievably, these difficult to please young ladies became so lost in their cardboard worlds that not one "Mummy I'm bored" or "or Daddy wake up" was voiced in almost 2 hours. The diddy but perfectly proportioned pencils allowed the girls to comfortably colour and decorate their characters and scenes & the small plastic stands enabled them to bring the figures to life and engage with their newly created worlds, on their own and with each other.

When the girls did eventually decide to move onto another activity, they insisted the boxes were packed away and brought along on holiday. Much to Mum's amazement, they were played with almost every day, apparently the perfect accompaniment to a restaurant; easy to whip out of a handbag at a moment's notice and played with at the table discreetly and (almost) quietly, allowing Mum and Dad time for another glass or two of Napa Valley Sauvignon .... perfect...for parents who enjoy peaceful flights, they're a must!"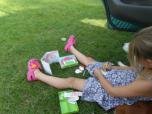 Babyworld
Carddies were very pleased to feature as one of Alice Griffin's Top Family Travel Companions on her trip to Italy (when she had to pack everything for her daughter and herself, for a month, into one rucksack):
"Carddies are a wonderful product, which I can't sing the praises of enough because they offer traditional, educational, creative fun for children; just the kind of thing I like for my young daughter."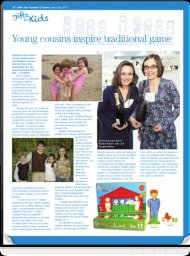 Garden centres
Aug/Sept 2012
We loved this article "Young cousins inspire traditional game" in the wonderful design led magazine, Gifts for garden centres....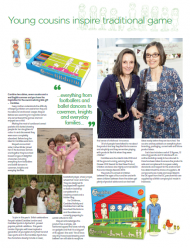 Giftware Review
Sept/Oct
...and this similar equally lovely article in Giftware Review!