Amazing press and parent and blogger reviews for our creative colouring toy...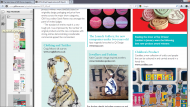 Gift Focus
The March/April issue of Gift Focus magazine had a lovely piece on Carddies, mentioned as one of the show stealers at Top Drawer 2012.
Foster Care
The Winter 2012 Foster Care magazine featured Carddies. We were very pleased to help run a competition for children.
Primary Times
Primary Times, a magazine for parents, pupils and teachers in the primary school sector across the UK and Ireland loved the Carddies.
Zoe & Drew
Great review and fantastic feedback from Zoe and her three daughters.
"I liked colouring them in the best. I want a vet set and the ballerinas next please. I really like playing with the fairies now I've finished colouring them in." (Kitty, aged 5, tested the Faries set)


"I liked colouring in the background the best and love the little babies in my set! I would really like more backgrounds for the house and family set, or maybe a nursery school or a farm. I would also really like a duckpond and forses with jumps!" (Amber, aged 9, tested the Family set).

"I think they are fun and a great idea. I would definitely like more sets, especially a space set with a rocket and aliens and a backdrop of the moon. Or maybe a beach holiday, a circus or a snowy day. Overall I love Carddies and recommend them to anyone who likes colouring!" (Lucy, aged 10, tested the School set)
(see full review at Zoe & Drew)

Ramblings of a Sussex Mummy
SussexMummy on the Carddies:
"As with all good products for children Carddies were thought up by parents for their children..and has now spiralled into a beautiful fun toy."
"Keeping children entertained can be a nightmare at the best of times, but doing on long journey when they are confined to a seat in a car, train or plane can be a whole lot worse... Thankfully I found a solution that will provide hours of entertainment, and doesn't cost a fortune."
First launch...
Carddies first appeared in Toy News, the monthly trade magazine for the toy business, at the end of 2011, when we first launched.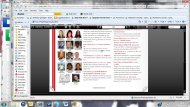 Toys 'n' Playthings
January 2012
Our New Year's resolutions in Toys 'n' Playthings! (UK toy trade magazine).
"Raquel's New Year's Resolution is to leave all the boring business side of things to Esther so that she can carry on drawing lots more Carddies for all the Carddies fans. Esther's New Year's resolution is to try to remain as gorgeous and smiley as her Carddie". (see about us)