Amazing press and parent and blogger reviews for our creative colouring toy...
Parent Panel
Parent Panel also thought the Carddies would make a great restaurant toy, and for other quiet times:
"This product was very well received by my 4 year old boy who had chicken pox at the time. He sat for ages colouring in each character and the scene and was very pleased with the final result. This would make an excellent treat to get out on a rainy afternoon, if you were confined indoors for any reason or when out and about at a restaurant etc"
For full piece, see Parent Panel and its sister blog New Mummy's Tips.
Times Online
The children and friends of the School Gate editor also liked Carddies:
"These toys are simple but effective. They are also great for travel (all those half-term car and train journeys) as they come in a simple and small box."
We also loved hearing what her little boy did with the princesses in the Knights set:
"They lend themselves beautifully to story-telling, and my son thoroughly enjoyed creating a tale of knights and dragons with his (I later found the two princesses still in the box and he told me they had been captured!)."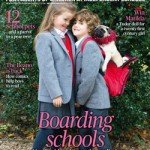 First Eleven
also featured Carddies on their Christmas Presents page...
Families London South East
Advocateur
...and we appeared in the Advocateur website, which emphasised the product's "good old fashioned creativity – there's definitely no plug or batteries required".